We founded the Granville Brewing Company in 2011 with a simple mission: to make exceptionally-crafted beer that we love to drink and serve to our family, friends, and neighbors. Located in the farmlands of Central Ohio, the brewery is proud to bring Belgian-style beers and other delicious ales from our growing portfolio to the folks of Licking County and beyond.
We were built out of a passion for making and drinking exceptional beer, and while we've steadily grown since our start, one thing will never change: it's always been and always will be about the beer.
The Reaper
Saison
(8.4%)
Big, bold, and effervescent, the Reaper Saison is our signature flagship French farmhouse ale with hints of orange, grapefruit, coriander, and black pepper.
---
The Betrayer
Tripel
(9.5%)
As true to a Belgian-style tripel as you'll get without a plane ticket, this deceivingly smooth-drinking ale imparts a refreshing minerality with a crisp, clean finish.
---
---
The Oppressor
Belgian Imperial Amber
(6.8%)
The black sheep of our flagship family but nonetheless delightful, the Oppressor's delicate cherry and caramel tones rise up to match this Imperial Amber's American hop profile.
---
The Traveller
Pale Ale
(6.2%)
The Traveller is a well-balanced American pale ale dry-hopped with Citra, delivering a clean finish and a fresh hop aroma without the bitter bite.
---
---
Granville Amber
(5.9%)
Our take on an American-style amber, we couldn't help ourselves and added a small twist, making the Granville Amber our nontraditional "gateway" Belgian.
---
Petite Saison
(5.6%)
Leading with banana and citrus notes, the Petite Saison is reminiscent of its older sibling the Reaper, with a milder spice profile, lower ABV, and all the right Belgian funk.
---
---
Witbier
(5.6%)
This refreshing Wit pays homage to the traditional, easy-drinking Belgian white ale, hazed by generous amounts of wheat and finished with hints of bitter orange peel and coriander.
---
The Tyrant
Imperial Stout
(8.0%)
The Tyrant is a super smooth, full-bodied Russian imperial stout with all the robust coffee and chocolate notes you'd expect in a heavy hitter without the boozy finish.
---
---
Porter
(5.5%)
A shockingly refreshing beer for all seasons, a pint of our Porter is the perfect glass of adult-only (dark) chocolate milk.
---
Serrano Stout
(8.0%)
Limited: This artfully balanced Serrano Stout has a dark-chocolaty body and a tease of spice, with just enough heat to prompt another sip.
---
---
Biere de Garde
(8.3%)
Limited: With a toasty malt aroma and a subtle hint of booziness, our Biere de Garde is exactly what you're looking for in a traditionally-crafted, but rarely-brewed aged Belgian ale.
---
Flanders Red
(6.8%)
Limited: If you've not yet had a Flanders-style sour, you're in for a trip back in time. Patiently aging for three years, this sour has a tart balsamic undertone and is blended with a young malty amber to craft our homage to Northern Belgian brewing traditions.
---
---
Visit Granville Brewing Co.
Our brewery and taproom are located in a renovated horse barn just outside of Granville at 5371 Columbus Road, near the intersection of Columbus Road and Outville Road. Enjoy a beer in the taproom, on our barnyard patio, or for carryout.

Thursdays, Fridays, and Saturdays
3-9 p.m.
Check Facebook for the weekly food truck schedule!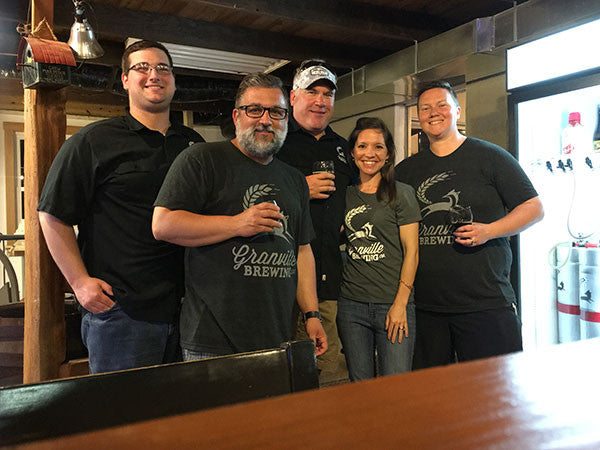 Granville Brewing Co.
5371 Columbus Rd
Granville, Ohio
740-919-5495
At this time we are no longer selling merchandise online, but stop by the taproom to grab your favorite Granville Brewing gear.